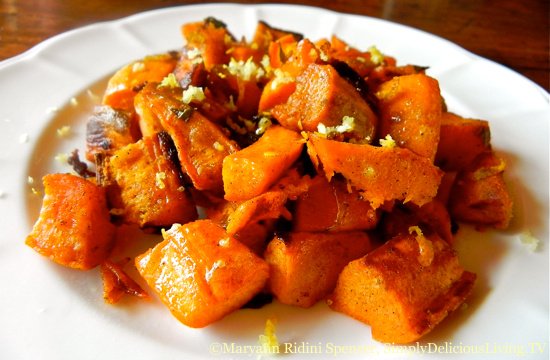 Roasted Sweet Potatoes with Cardamom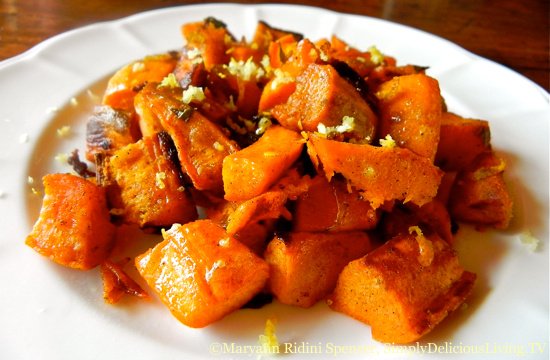 A business associate and friend of mine, Earl Beadle, has a beautiful and talented daughter, Merris Beadle.  Merris, who has a food blog, and is currently working on a friend's Colorado-based health conscious vegan/vegetarian catering company, Soltribe Cuisine, recently shared this yummy recipe with me for Roasted Sweet Potatoes with Cardamom.  I am in love with this dish!  It's fantastic with grilled or steamed veggies and a large salad.  It's also simply yummy as a side with a veggie burger or a piece of grilled chicken or fish.   At our house, we even serve it for breakfast (instead of hashbrowns) with eggs and a big fruit salad!

Enjoy it any time of year!

Roasted Sweet Potatoes with Cardamom
Author:
Maryann Ridini Spencer
Ingredients
3 sweet potatoes
2 T. olive oil
3 sprigs of fresh mint
1 tsp. cardamom
zest of one lemon
2 T. honey
pinch of sea salt
Instructions
Preheat oven to 375 degrees F.
Peel sweet potatoes and chop into large chunks.
Chop mint finely.
Place sweet potatoes in a bowl with oil, mint, spices, lemon zest, and honey.
Toss until the sweet potatoes are well coated.
Lay the sweet potatoes out on a baking sheet and roast them for 25-30 minutes.
When the potatoes are crispy, remove them and serve immediately.
Notes
Merris recommends pairing this dish with Indian recipes. She also said the tastes of this dish blended perfectly when she paired it with sauteed kale with tumeric, cumin and sea salt with curried garbanzo beans over brown rice. Sounds delish to me! 🙂
Google+